When it comes to suspension, no doubt you want reliability and durability, as well as a product that isn't going to hit you too hard in the hip pocket.
The two common forms of suspension for trailer axles are leaf spring and torsion. This guide provides an overview of how each suspension type works and some of the user considerations to think about.
Leaf springs
The default option for many of Fabplans products, leaf springs, have been around since Roman times – and for good reason. They are more cost effective to manufacture, easy to repair or replace and reliable. 
Leaf springs are made up of spring steel plates (known as the leaves) and depending on the setup, they can carry large loads while reducing stress on the trailer chassis. The leaves are stacked on top of each other in several layers, constituting the 'spring'. The spring is then bolted to the axle and chassis of the trailer creating the suspension system.
Leaf springs are built to an upper load limit and need to be matched to the total trailer and load weight (ATM). If the load rating is too low, the springs will 'flatten' and quickly fail. If they are rated too heavy, the ride will be stiff and harsh, causing structural stress to both the trailer and load.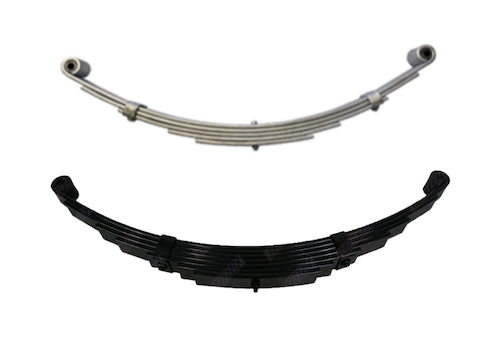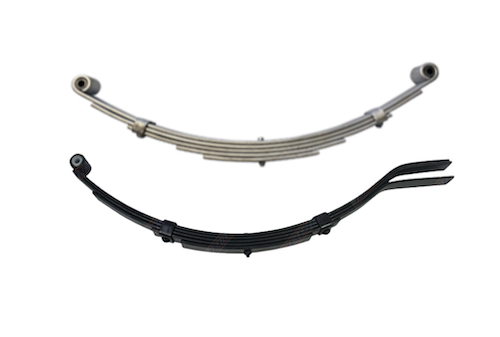 Eye to eye vs. slipper
The difference is clearly the end configuration as seen above. But why would you choose one over the other? For applications like the trailer plans that are available at Fabplans.com, we recommend eye to eye as they are generally quieter with less rattling. This is due to nylon bushings at both ends of the leaf spring meanwhile, the slipper has metal on metal at the slipper end.
Need to carry more weight?
More springs equals more weight! Below we have a tandem leaf spring set-up (also known as rocker roller suspension) enabling a load sharing arrangement between each set of wheels. This means any extra load on each wheel will be partially transferred to the others, maintaining an even weight distribution.

You can also get this arrangement of suspension in a tri-leaf spring set-up, for carrying even greater loads whist also spreading the trailer load over a greater number of axles. Note that tri-axle trailers often have a tendency to wear the rear tyres out faster than the others due to 'screwing' when cornering. This also happens on tandem axle trailers to a lesser degree.
Leaf spring user considerations
Leaf springs need more maintenance than torsion suspension. Some may see this as a disadvantage, but this is often the reason people prefer them. Torsion suspension does not have replaceable or repairable parts so if it ever becomes faulty, you must replace the entire system.
If you have more than one axle on your trailer, a leaf spring setup is the most reliable option for a steady ride.
Commonly asked questions
Q: How can I tell if my leaf springs need replacing?
A: Some of the common indicators that your leaf springs need replacing are:
Visible cracks on the leaves.
Rear of the trailer appears sagged.
Squeaking sounds when in motion.
Suspension bottoming out.
Difficulty towing loads.
Q: Is torsion suspension better than leaf suspension?
A: After reading this article we hope you have found your answer, but if not, it is a matter of horses for courses. Select the suspension that best suits your requirements.
Q: How much do new leaf springs cost?
A: The cost of leaf springs largely depends on the size, coating and the manufacturer of the spring. We've provided a guide to common trailer part costs in our trailer part pricing guide.
Torsion axle suspension
Torsion axle suspension uses an inner rubber core for its suspension mechanism.
It combines the axle and suspension in one assembly, providing an adjustable ride height and a rubberised suspension system. The rubber within the axle housing is what handles suspension travel and shock absorption. As each wheel moves up and down, the rubber resists the torsion stress, or twisting motion, offering even wheel suspension for a smooth ride.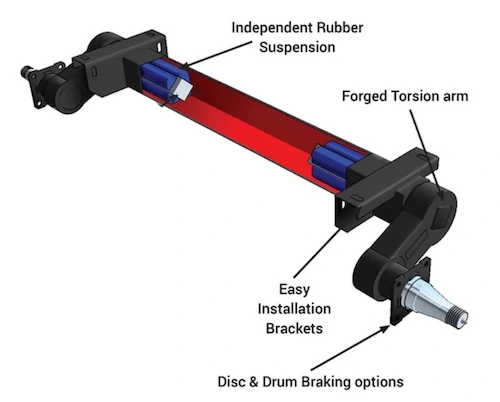 There are two configurations of torsion suspension
The first and most common type is where the axle contains 4 rubber cords (one in each corner) and a centre axle which is attached to the pivot arm. When the trailer goes over a bump, the centre axle twists and is opposed by the rubber cords which compress. This results in the suspension effect.
The other option is where the rubber is square and fits tightly within the outer axle. The system works in the same way but in this instance, the rubber is under shear force rather than compression.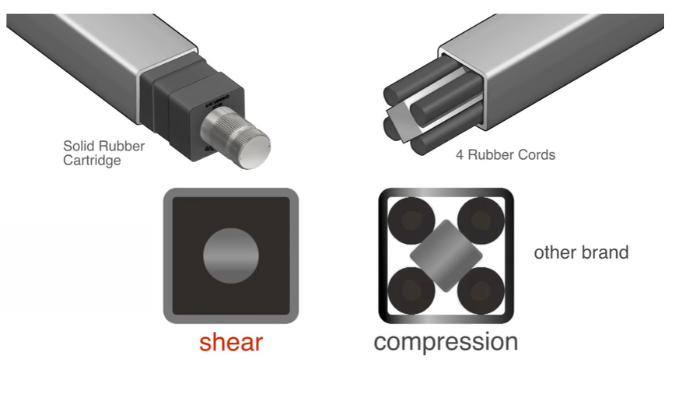 Torsion axle suspension user considerations
Torsion suspension packages provide an independent suspension solution. This means if there is more weight on one tyre than the other, it can lead to heat build-up and possible blow-outs. Because of this, torsion suspension is preferred for lighter loads and on-highway use. Due to the fact they do not offer weight equalisation, they are not suitable for heavier loads, rough roads or off-highway use.
As mentioned above, torsion axles are not repairable and do not have replaceable parts, which means the whole system needs to be replaced if you ever experience any damage.
On the other hand, torsion suspension is quiet (as there is no metal on metal moving parts), meaning you don't have the rattles and clucks that often come with use of leaf springs. They are lighter and require very little regular maintenance – standard wheel bearing maintenance and lubrication is usually all that is required. A lot of the systems on the market allow for easy adjustment of ride height which can be a handy feature.
Commonly asked questions
Q: How can I tell if my torsion axle suspension is bad?
A: One of the easiest ways to test your torsion axle suspension is to do a jack test. This test involves jacking up one side of the trailer at a time to remove the weight. The wheel should drop at least 1.5 inches.
Q: Can I use torsion axles on tandem or triple axle trailers?
A: We do NOT recommend torsion axle suspension for trailers with more than one axle. If you were to apply torsion axles to a tandem axle trailer, and drive over a speed bump, the motion of the first wheel to hit the bump won't affect the motion of the second wheel and may even result in the second (or third wheel if triple axle trailer) to leave the ground. This causes a trailer's load to be misbalanced.
This is also why tandem axle leaf spring trailers should have an equaliser bar between each spring. The equaliser bar acts as a pivot to offset the height of both wheels (within a certain limit).   
Q: How much do new torsion axles cost?
A: The cost of torsion axle suspension will largely depend on the manufacturer and load rating. The cost will generally be between $600-$1,500 per axle.
Benefits of leaf springs and torsion axle suspension for trailers
We've summarised some of the benefits of each suspension design in the table below.
| Leaf springs | Torsion axle |
| --- | --- |
| Parts can be easily changed if broken. | Minimal maintenance design. |
| Low cost. | No metal-to-metal contact points – travels quieter. |
| Easy to install. | Independent suspension. |
In Summary
Both leaf spring and torsion suspension systems have their own advantages and considerations when it comes to choosing the right suspension for your trailer.
Leaf springs offer cost-effectiveness, easy repair or replacement, and reliability, making them a popular choice for trailers carrying heavier loads. On the other hand, torsion suspension provides a smoother ride, minimal maintenance requirements, and excellent corrosion resistance.
The decision between leaf spring and torsion suspension ultimately depends on your specific needs, load requirements, and usage conditions.
Understanding the pros and cons of each suspension type can help you make an informed decision to ensure reliability, durability, and a comfortable towing experience.