Derick from Tasmania has just completed the build of his first Airbag Car Trailer. He's been kind enough to share some of the photos from his effort over the past couple of months.
Here we have the pivot arm assembly plate all cut and starting to be assembled and welded up.
Next up, Derick has built stands to keep the chassis off the ground (also keeps him from constantly bending over) and laid out the cut list ready to start welding together. You can see the pivot arm assemblies being trial fit – accuracy is paramount at this point.
Below, Derick has begun trial fitting the wheels, mounting them to the spindle to ensure enough clearance from the chassis rails. Then with the airbags mounted, you can see it starting to come together!
Next up, Derick has installed the checker plate flooring, winch mount, and tow coupler mount. Finally, with all the cutting, grinding, and welding complete, it's time for paint – one of the most satisfying parts of any build.
Although nearing the end of the build, there is still plenty to do. Derick has installed the electrical wiring for the lights, brakes, compressor, and finally, the airbags, shock absorbers, and wheel fitting. Also, check out those stainless-steel mudguards! It's great to see customers adding their own flare to our plans.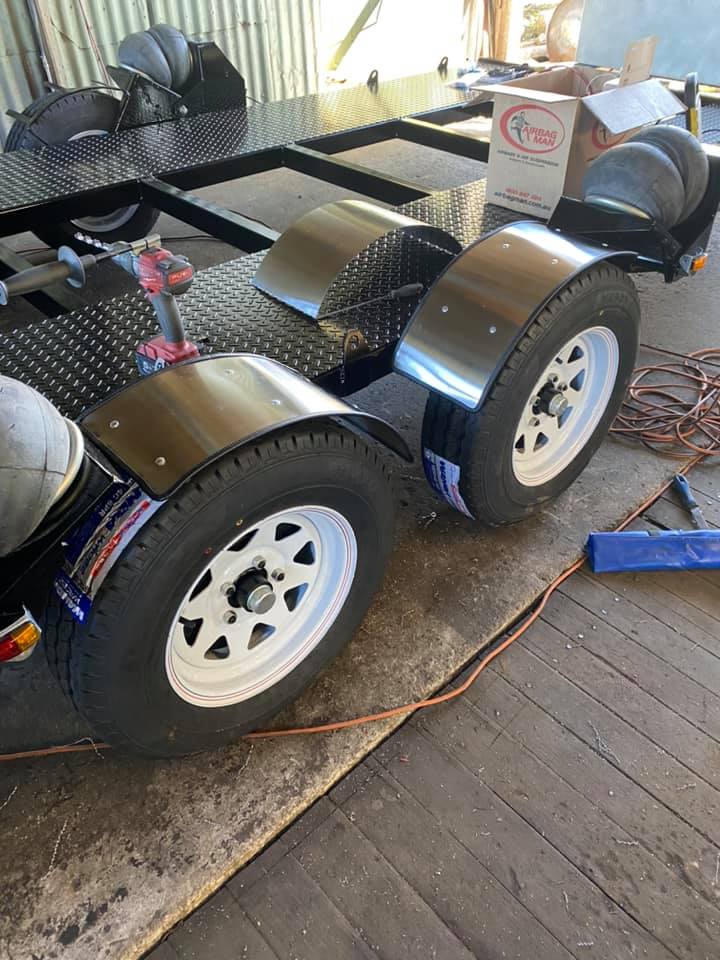 The final trailer looks mint! Derick's Airbag Car Trailer will turn heads when travelling down the highway. The fully loaded trailer sits nice and level. Awesome work Derick!
A lot of time and effort goes into building your own Airbag trailer, and planning is crucial to be successful. So if you are up for the challenge, grab your comprehensive Airbag Car Trailer Plans from our website. After checkout, your plans are ready for immediate download, and the fun can begin.